Nominations are now being accepted for GSA's five prestigious annual awards:

To help provide a diverse pool of nominees that represents the excellence in our discipline, GSA especially encourages the nomination of women and deserving individuals from groups traditionally underrepresented in science. Please note the requirements for each award, listed in the description and at the top of the nomination forms. Nominations are due by September 18, 2015.

C. elegans educators! Last chance to apply for the new workshop, "Preparing your educational resources for online publication," offered at the 2015 C. elegans meeting. Co-sponsored by CourseSource, this workshop is ideal for educators who have been wondering how to prepare their teaching resources for publication in an online repository. After learning how to navigate the submission process for GSA PREP and CourseSource, attendees will have a dedicated time to work on their submissions while "TAs" are standing by to answer questions. Apply now for this exciting new workshop! The application deadline is May 29, 2015.

Don't forget to submit your entry for #WormArt2015 at the upcoming C. elegans meeting; the deadline is June 14, 2015.

GSA recently provided input to the National Institutes of Health (NIH) on improving the impact and sustainability of the biomedical research enterprise, stressing the importance of investigator-initiated research, the value of model organisms, and the need to provide a greater degree of stability to investigators by reducing the "feast-or-famine" approach to funding. [more…]



The GSA Journals

Stop or go? Arabidopsis Traffic Lines allow easier genotyping of segregating families. Described by Wu et al. in the latest issue of GENETICS, a traffic line is a chromosome segment marked with a pair of seed-specific transgenes encoding eGFP and dsRED. Seed fluorescence reveals recombination in the intervening region, allowing such events to be avoided or selected.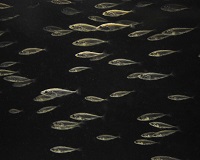 Image credit: Anna Greenwood
Stickleback to School: Wild threespine sticklebacks are often found in social groups, but the extent of group formation varies between fish from different habitats. In the latest issue of G3, Greenwood et al.describe the genetic architecture of variation in this social behavior, identifying three genomic regions associated with schooling tendencies.




Guest Post: Maintaining a strong Drosophila community—starting with students.
More than a century of intense research with Drosophila has arguably turned this little insect into the animal whose biology we understand the most. There is some evidence, however, that there has been a downturn in NIH and NSF funding for fly research. In this guest post, Andreas Prokop of the University of Manchester argues that education, science communication, and outreach initiatives are some of the most critical tools we have for maintaining a robust Drosophila community that can continue its important contributions to biology and biomedical research. [more…]

Members in the News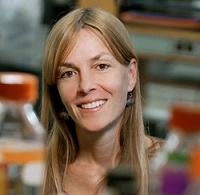 Alison Gammie
Image credit: Princeton Univ


At last week's meeting of the National Advisory General Medical Sciences Council, NIGMS Director Jon Lorsch announced the appointment of Alison Gammie as the new director of the institute's Division on Training, Workforce Development, and Diversity. Alison, Senior Lecturer in Molecular Biology at Princeton University, serves as Director of Diversity Programs and Graduate Recruiting and Director of Summer Undergraduate Research Programs in Molecular and Quantitative & Computational Biology. She is also the current chair of GSA's Education Committee and one of the GSA-affiliated editors at CBE–Life Sciences Education. She will begin her tenure at NIH later this year.

Three members of the GSA community have been appointed by the Howard Hughes Medical Institute (HHMI) to the new class of HHMI Investigators. Congratulations to GENETICS Associate Editor and 2015 Edward Novitski Prize recipient Sue Biggins, G3 Associate Editor Job Dekker, and GENETICS Associate Editor Jay Shendure on this achievement! Over an initial five-year appointment, HHMI will provide each investigator with a full salary, benefits, and a research budget in order to provide them with the flexible support necessary to move their research in creative new directions. [more…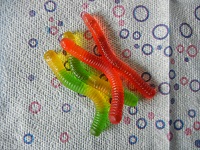 Crossing over in a new GSA PREP resource.
Image credit: Mary Durham
New this month, GSA PREP features a new in-class resource by Mary Durham (University of Nebraska–Lincoln) that utilizes gummy worms as manipulatable chromosomes to demonstrate meiosis. This should be a particularly enjoyable exercise for anyone with a sweet tooth! Faculty introducing students to meiosis will appreciate the breakdown of common student mistakes and underlying misconceptions.

GSA Member and Nobel Laureate Martin Chalfie gives advice on what makes a good postdoc application, mentioning that "postdocs are coming [to a lab] as colleagues."

How do you become a sought-after figure in the science community? It's all about reputation. This piece in Naturejobs details why developing a strong positive identity in your career is essential for success, and offers a few tips on how to get started.

Do you struggle with maintaining a healthy work/life balance? It's okay to take a break sometimes.

Funding, Fellowships, and Awards

LAST CHANCE! Nominations are open for the Rosalind Franklin Young Investigator Award, which honors the ground-breaking contributions of Dr. Rosalind Franklin by supporting new generations of women geneticists. The Gruber Foundation will fund two career development research awards of $75,000, distributed over three years to women geneticists in their first three years of an independent faculty-level position. Eligible candidates may nominate themselves or be nominated by a colleague or mentor. The award is administered by GSA and the American Society of Human Genetics. The nomination deadline is June 5, 2015.

NSF is accepting proposals for its Faculty Early Career Development Program (CAREER), with awards going to junior faculty who exemplify excellence in research and education, embodying the role of "teacher-scholar" by integrating the two. Top CAREER awardees are chosen as nominees for Presidential Early Career Awards for Scientists and Engineers (PECASE). The Directorate for Biological Sciences (BIO) CAREER proposal deadline is July 21, 2015.

Are you an early-career, foreign-born researcher? The Vilcek Foundation is seeking applications for the 2016 Vilcek Prizes for Creative Promise in Biomedical Science, open to biomedical researchers age 38 and under born outside the US. Three $50,000 cash prizes will be awarded, and the winners will be honored at a ceremony in New York City in April 2016. Apply by June 15, 2015.


This past week, GSA Executive Director Adam Fagen participated in advisory council meetings for the National Institute of General Medical Sciences (NIGMS) and National Human Genome Research Institute (NHGRI).
NIGMS: In addition to the news about the new role for GSA Educational Chair Allison Gammie, NIGMS discussed plans for additional funding opportunity announcements for its Maximizing Investigators' Research Award (MIRA) program and trends in PhD and postdoc career development and progression, compared R01 renewal rates for new and established investigators, and gave concept clearance for a program to support development of tools for cell line identification.
NHGRI: The Genome Council discussed and gave concept clearance to several programs related to functional genomics, genomic technology development and analysis of NHGRI's Research Training and Career Development Programs.
GMOs continue to make news. The USA TODAY Editorial Board expressed its view that "GMO food bans pander to ignorance," saying that companies that have announced a ban on genetically-modified products are "validating ignorance and hysteria" rather than listening to scientific evidence. Michael Gerson wrote something similar in The Washington Post, saying "embracing pseudoscience as the centerpiece of an advertising and branding effort is an act of corporate irresponsibility."

And the Environmental Protection Agency has given approval for field testing of a GMO orange that is resistant to citrus greening, a major threat to the citrus industry. The disease has already caused nearly $8 billion in damages in the last eight years.



The excellent photos taken by Matt Sachs at GSA's 28th Fungal Genetics Conference earlier this year are now available on the conference website.

Register now for several Summer Institutes in Statistics at the University of Washington, including:

And finally...

Thanks for helping us reach 4,200 likes on Facebook and 5,500 followers on Twitter! Keep up with highlights like these by joining GSA on Facebook, Twitter, LinkedIn, and Google+:
Sonia Hall, a Trainee Advisory Representative to the GSA Board, and her colleague Lynn Villafuerte launched a successful Kansas DNA Day out of the University of Kansas.
The European Commission announced plans to appoint a seven member, high-level panel of scientists to advise policymakers.
Check out this interview on PBS NewsHour about the impact limited federal funding has on biomedical research.