In honor of the 20th International C. elegans Meeting convening in UCLA this week, we present a special section of the e-News highlighting All Things Worm! More than 1,700 scientists are expected to attend the meeting from June 24–28, 2015, in Los Angeles, California. The meeting features 200 talks and more than 1,000 poster presentations on a diverse range of cutting-edge research topics including physiology, neurobiology, development, evolution, behavior, aging, ecology, gene regulation and genomics. For more meeting highlights, click here, and follow #WORM15 on Twitter for live meeting updates!



An adult hermaphrodite C. elegans
Image credit: Corsi et. al.

Worm 101: Ann Corsi, Bruce Wightman, and Martin Chalfie author the latest GENETICS model organism Primer, an introduction to C. elegans for students and educators. The article highlights the history of the model system, its many advantages, genetic and genomic tools, life history, and also describes the community of worm researchers. The C. elegans Primer is co-published with WormBook, the online review of C. elegans biology, and serves at WormBook's introductory chapter. Browse the whole series of educational Primers here.


"How to Get Published" workshop at the Worm Meeting! Join editors from GENETICS, G3: Genes|Genomes|Genetics, and more for a brief breakfast presentation and discussion on Friday, June 26. This is an excellent opportunity for graduate students, postdoctoral scholars, and undergraduate students to have informal conversations with editors about the peer-review and scientific publishing.

Also stop by Pauley Pavilion and visit GENETICS and G3 editors and staff at the GSA booth, or email tracey.depellegrin@thegsajournals.org or ruth.isaacson@thegsajournals.org to set up a time to talk publishing. GSA Executive Director Adam Fagen will be at the meeting and available to discuss anything related to the Society, including the 2016 meeting, outreach, and policy. Beth Ruedi, GSA's director of education, will also be on hand and happy to discuss genetics careers, finding postdoc, Vision & Change, or anything you'd like to chat about!



Don't forget: student and postdoc members can now submit applications for GSA Trainee-Organized Symposia. This new member benefit provides up to $2,000 in funding for local and regional symposia organized by GSA trainee members in subject areas relevant to the GSA mission. Applications must be received by July 10, 2015. See the GSA website for details.

Nominations are now being accepted for GSA's five prestigious annual awards: To help provide a diverse pool of nominees that represents the excellence in our discipline, GSA especially encourages the nomination of women and deserving individuals from groups traditionally underrepresented in science. Please note the requirements for each award, listed in the description and at the top of the nomination forms. Nominations are due by September 18, 2015.

We need your help! Phylo: The Trading Card Game has released a beta version of a GSA Model Organisms Deck. This deck was created in an attempt to raise awareness about the diverse nature of experimental questions, techniques, and model organisms in our field. We are looking for beta-testers to provide feedback not only on the game, but on the specific cards themselves, by July 1, 2015. If you are interested, and we hope you are, here's what you need to do: PLAY! And then let us know how we can make it better. [more…]



The power of 100,000: More than 100,000 people make up the Genetic Epidemiology Research on Adult Health and Aging (GERA) cohort, an ongoing genomics study of members of the Kaiser Permanente Medical Care Plan. Three core papers describing the study are now published Early Online in GENETICS. The papers describe the genetic ancestry and telomere lengths of the participants, and the genotyping methods developed for the project. Read an interview with co-PI Neil Risch in the Genes to Genomes blog and see coverage of the papers at GenomeWeb.


Repeat assembly: In 2010 Krsticevic et al. found 18 copies of the D. melanogaster Y chromosome gene Mst77F. Their repetitive structure caused assembly problems, and hence their genomic organization and total copy number remained unknown. In the latest issue of G3, the authorsreinvestigated the Mst77F region and found that the PacBio, but not the Illumina D. melanogaster genome assembly, could be used to accurately reconstruct it. These results highlight the utility of PacBio sequencing in assembling difficult genomic regions.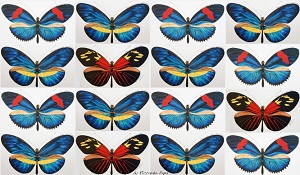 Different color pattern forms of Heliconius erato.
Image credit: Riccardo Papa
The molecules behind mimicry: The vibrant passion-vine butterfly species Heliconius erato doesn't taste as good as it looks. The flesh of this South and Central American species accumulates toxic compounds to discourage would-be predators, who quickly learn to associate the butterflies' unpleasant taste with their bold red warning colors and patterns. But H. erato isn't the only species that wears this particular danger sign. Read more about advances in genomic understanding of wing patterning and Müllerian mimicry in Heliconius.

Members in the News

Two GSA members are among 37 early career scientists honored by the Pew Charitable Trusts to its 2015 class of biomedical scholars. Robert J. Schmitz (University of Georgia) was named a Pew Fellow in Biomedical Sciences, and Gina V. Caldas (University of Massachusetts Medical School) as a Pew Latin American Fellow.

GSA member John Doebley (University of Wisconsin) has been honored by our UK counterpart, The Genetics Society, with its 2015 Mendel Medal.

GSA member Jon Pierce-Shimomura shares with NPR how his team discovered the neuron in C. elegans that detects Earth's magnetic field. You can learn more about this research at this week's worm meeting.

In the June 2015 issue of The Scientist, immediate Past President Vicki Chandler wrote on the need to invest in the development of data scientists and technologies.

Education and Professional Development

Curious about online learning platforms? GSA Past President Vicki Chandler is featured in PCMag's exploration of Silicon Valley startup Minerva, which is challenging the way online education is structured. Chandler is Minerva's Dean of Natural Sciences.

The European Science Foundation (ESF) recently published the findings of a new pilot study on the career paths of young scientist who recently obtained a PhD, Career Tracking of Doctorate Holders. The report makes two recommendations: career expectations of doctoral candidates need to be realistic about the small number of careers available in academia, and the lack of tenure-track positions needs to be restructured to allow for more tenured positions. Science explores these recommendations, and offers advice to young scientists on how to take control of their own career.

The droso4schools project developed by the Manchester Fly Facility aims to bring the fruit fly back into biology lessons. Check out this educational resource exploring the similarities between human and Drosophila organs.

Funding, Fellowships, and Awards

The National Institute of General Medical Sciences (NIGMS) will be holding a webinar on Tuesday, June 30, 1–2 pm EDT, to answer questions about the institute's Maximizing Investigators' Research Award (MIRA) funding opportunity announcement for new and early stage investigators. The webinar with NIGMS director Jon Lorsch and program director Peter Preusch will be archived at the MIRA website.

The National Science Foundation has issued a revised program solicitation for the Collections in Support of Biological Research (CSBR) program. Applications can request support for living stock collections, natural history collections, and transferring the ownership of existing collections. The full proposal deadline is September 10, 2015.

The National Science Foundation hosted an introductory webinar last month on its Faculty Early Career Development (CAREER) Program. The webinar covered information on program requirements and eligibility, components of a good proposal, and the review process. Slides are available here.



The National Academy of Sciences (NAS) and the National Academy of Medicine (NAM) have named the members of a new advisory committee that will provide counsel to the NAS and NAM presidents on the new Academies' initiative related to human gene editing. GSA member Keith Yamamoto and TAGC Keynote Speaker Jennifer Doudna are among those appointed to the new group.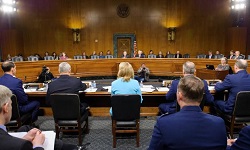 Senate Appropriations Committee approves a draft bill with a $2 billion "raise" for NIH.
Image credit: www.appropriations.senate.gov

The Senate Appropriations Subcommittee with oversight for the National Institutes of Health has approved a draft bill that would provide an additional $2 billion for the agency in fiscal year 2016, an increase of 5.6% over the present year.This is more than the additional $1 billion proposed by President Obama and the $900 million suggested by the corresponding House panel. Much of the additional money is targeted for specific programs, including $200 million for the Precision Medicine Initiative, $135 million for the BRAIN initiative, $100 million for a transagency antibiotics initiative, and additional funding for Alzheimer's disease research.

The National Science Foundation has elected Amanda Hallberg Greenwell to head the agency's Office of Legislative and Public Affairs (OLPA). OLPA communicates information about NSF's activities, programs, research results and policies to a diverse range of audiences.

The National Institutes of Health has appointed eight individuals to the NIH Council of Councils. The council was established to advise the NIH Director on policies and activities of the Division of Program Coordination, Planning, and Strategic Initiatives. This includes providing recommendations on research in important emerging scientific areas, rising public health challenges, or knowledge gaps that deserve special attention.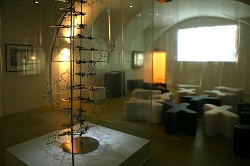 Inside the Mendel Museum in Brno.
Image credit:  http://mendelmuseum.muni.cz/
A new app called protocols.io from GSA member Lenny Teytelman hopes to remove barriers to scientists hoping to share their research with others. Forbes reports on this innovation, which aims to bring researchers together online via a platform where they can share experimental processes and protocols. GSA Board Trainee Representative Sonia Hall, one of the early adopters of this new open access repository of protocols and methods, is featured in the article.

The Mendel Museum in Brno, Czech Republic, is celebrating 150 years since Gregor Mendel first discovered the principles of genetics. You can be a part of the event's Indiegogo campaign and score several great items in gratitude! Watch out for more information in future editions of the e-News about a special event on July 20 that will be webcast worldwide.



Thanks for helping us reach 4,300 likes on Facebook and 5,700 followers on Twitter! Keep up with highlights like these by joining GSA on Facebook, Twitter, LinkedIn, and Google+: